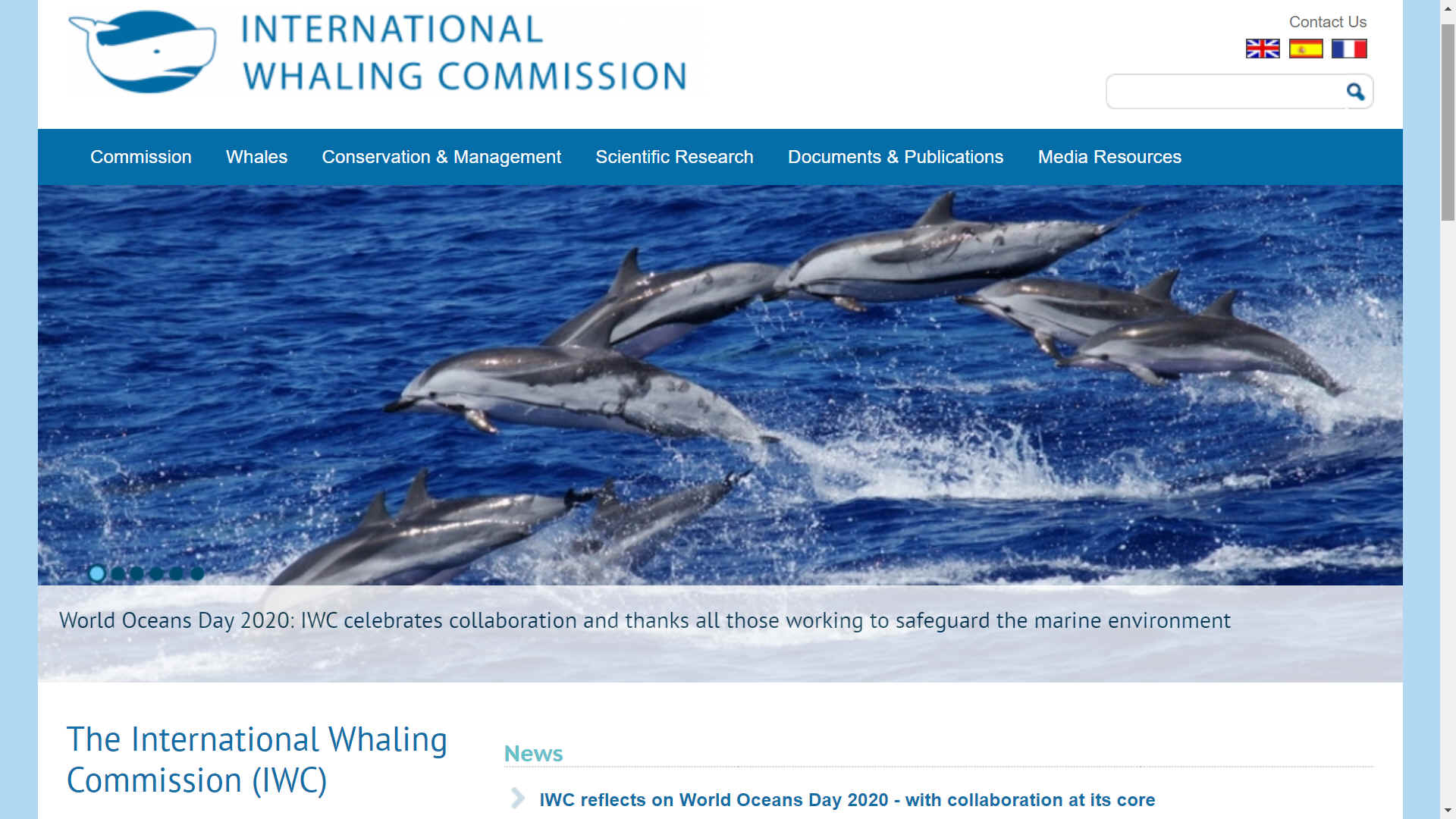 IWC is a voluntary international organization and is not backed up by treaty, therefore, the IWC has substantial practical limitations on its authority. First, any member countries are free to simply leave the organization and declare themselves not bound by it if they so wish. Second, any member state may opt out of any specific IWC regulation by lodging a formal objection to it within 90 days of the regulation coming into force (such provisions are common in international agreements, on the logic that it is preferable to have parties remain within the agreements than opt out altogether). Third, the IWC has no ability to enforce any of its decisions through penalty imposition.
By virtue of International agreement, by a majority of nations, all whaling is deemed to be pirate fishing. Whales are mammals like humans and dolphins, so that the hunting of whales is strictly speaking, not 'fishing', but taking anything from the sea, except oil and minerals, is termed fishing - as in to find and catch something hidden beneath the waves.
In the end, whaling may not be so damaging to whale populations as plastic pollution, where the numbers of agonizing deaths from ingesting single use plastic items and micro plastics could end up being significantly more than with hunting for food.
Though, the G20, European Union, nor United Nations will directly fund ocean cleaning devices such as SeaVax. Hence, these countries in-effect, endorse suffering and agony, where they could very easily afford to support such operations.
Toxification via bioaccumulation may end up poisoning the humans that eat the whales that they are catching despite the majority of countries thinking it is wrong.
Many people think it is wrong to eat the flesh of another living creature, such as vegetarians and vegans. Hence, the topic is objective, because here the meat eaters are the majority. Everyone is entitled to their view, rightly or wrongly. That is a basic Human Right.
MEMBER COUNTRIES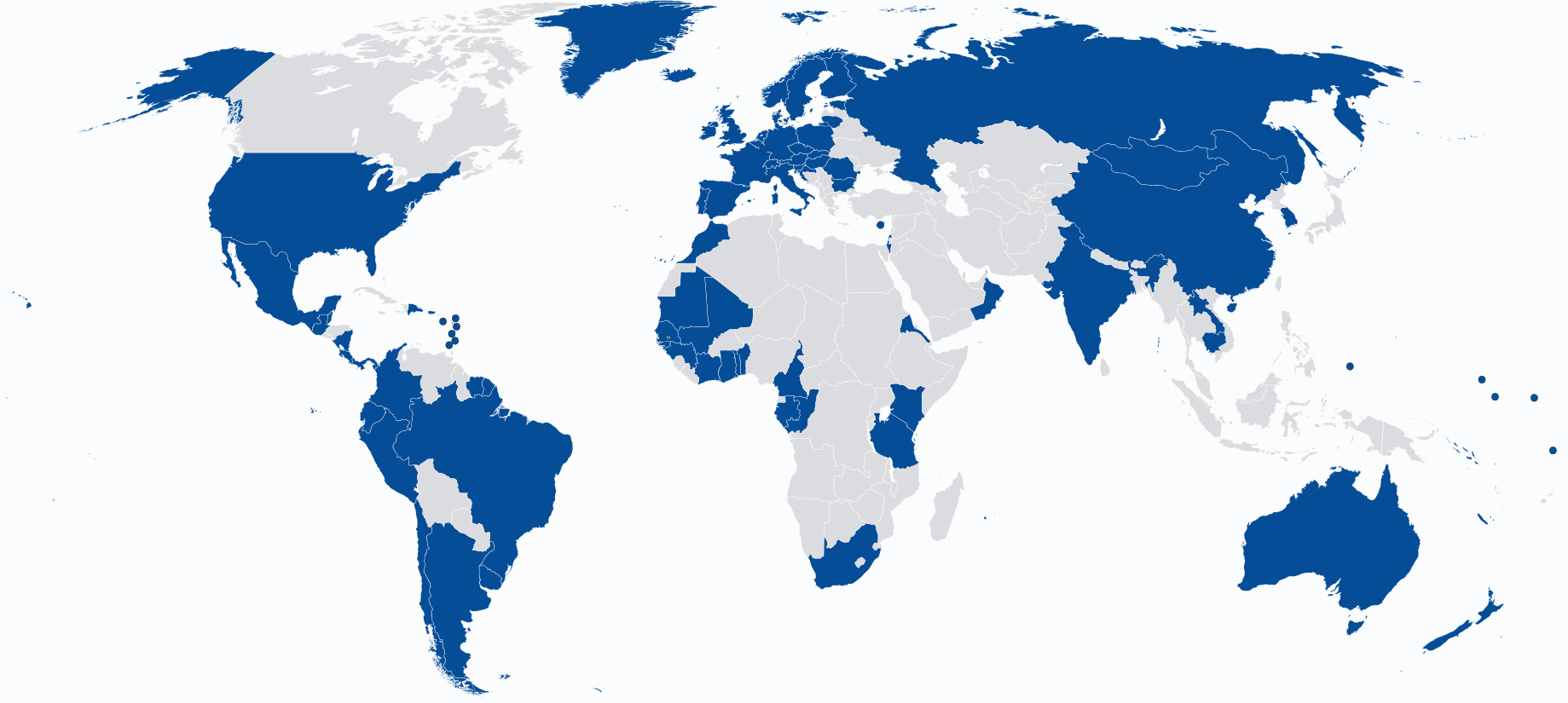 IWC COMMISSIONERS
Contracting Government
Adherence
Commissioner
Appointment
Antigua & Barbuda
21/07/82
Ambassador D. Joseph
22/07/14
Argentina
18/05/60
Minister M.J. Oyarzabal
20/10/16
Australia
10/11/48
Dr. N. Gales
14/06/16
Austria
20/05/94
Dr. A. Nouak
09/08/96
Belgium
15/07/04
Ms S Langerock
16/06/15
Belize
17/06/03
Ms. B. Wade
17/05/06
Benin
26/04/02
Dr A.G. Djihinto
12/09/16
Brazil
04/01/74
Ambassador H.T. Ribeiro
06/10/16
Bulgaria
10/08/09
Ms Y Velina
08/01/16
Cambodia
01/06/06
Mr. H.E. N. Thuok
14/09/09
Cameroon
14/06/05
Dr. B. Emma
29/01/14
Chile
06/07/79
Mr. J. Fernandez
28/06/13
People's Republic of China
24/09/80
Mr. Li Jianhua
06/06/00
Colombia
22/03/11
Ms. A. Ramirez Martinez
11/05/15
Republic of the Congo
29/05/08
Mr. J.A. Kolelas-Ntoumi
21/07/08
Costa Rica
24/07/81
Ms. H. Rodriquez
03/07/18
Côte d'Ivoire
08/07/04
Dr. Z.A. Meite
04/06/15
Republic of Croatia
10/01/07
Ms I Partl
28/11/19
Cyprus
26/02/07
Not notified
-
Czech Republic
26/01/05
Mr J. Mach
15/12/15
Denmark
23/05/50
Ms. A.B. Hansen
01/08/19
Dominica
18/06/92
Mr. L. Pascal
10/07/01
Dominican Republic
30/07/09
Mr A Estevez
12/11/18
Ecuador
10/05/07
Ms. M. Munoz
01/08/18
Eritrea
10/10/07
Mr. S. M. Ahmed
02/10/08
Estonia
07/01/09
Mr H. Zingel
19/02/15
Finland
23/02/83
Ms. P. Blankett
03/05/11
France
03/12/48

Mr. C. Payeur

15/04/20
Gabon
08/05/02
Prof. L. White
14/09/14
The Gambia
17/05/05
Mr. M. Bah
23/06/10
Germany
02/07/82

Mr. B. Soentgerath

09/06/20

Republic of Ghana
17/07/09
Mr. E. Mensah
02/01/18
Grenada
07/04/93
Mr. A. Dabreo
10/09/18
Guinea-Bissau
29/05/07
Mr. I. Barros
03/02/15
Republic of Guinea
21/06/00
Mr. D.A. Telivel
12/02/14
Hungary
01/05/04
Mr. Z. Czirak
11/01/11
Iceland
10/10/02
Mr. S. Asmundsson
30/10/17
India
09/03/81
Mr. M.S. Negi
14/11/17
Ireland
02/01/85
Mr. J. Fitzgerald
15/05/07
Israel
07/06/06
Ms R. Oberman
30/06/14
Italy
06/02/98
Mr. R. Rigillo
06/05/14
Kenya
02/12/81
Prof. M.J. Ntiba
23/09/16
Kiribati
28/12/04
Dr A Yeeting
15/01/19
Republic of Korea
29/12/78

Mr. D.Y. Yang

12/01/18
Laos
22/05/07
Dr. B. Khambounheuang
01/10/07

Liberia

Lithuania

10/08/18

25/11/08

Ms. E.M. Glassco

Ms. L. Caplikaite

10/08/18

24/02/12

Luxembourg
10/06/05
Mr. C. Origer
10/06/05
Mali
17/08/04

Mr. S. Coulibaly

16/05/08
Republic of the Marshall Islands
01/06/06
Hon. D. Momotaro
03/04/18
Mauritania
23/12/03
Dr. A. M. Jiddou
16/05/11
Mexico
30/06/49
Dr. L. Rojas Bracho
15/07/16
Monaco
15/03/82
Prof. F. Briand
13/06/03
Mongolia
16/05/02
Dr. T. Damdin
02/12/15
Morocco
12/02/01
Mr. Y. Ayouch
28/06/14
Nauru
15/06/05
Hon. M. Dube
17/10/17
Netherlands
14/06/77

Mr. L.J. van der Heiden

22/03/17
New Zealand
15/06/76
Ms. J. Henderson
05/08/19
Nicaragua
05/06/03
Mr. E. Jackson Abella
30/09/16
Norway
03/03/48
Mr. O. D. Stenseth
01/06/11
Oman
15/07/80
Dr. A. Al-Marzouqi
20/11/18
Republic of Palau
08/05/02
Ms V. Dilsils Kanai
21/05/18
Panama
12/06/01

Tbc

Peru
18/06/79
Mr. A. Garrido Sanchez
18/04/19
Poland
17/04/09
Mrs. M. Lesz
14/05/09
Portugal
14/05/02
Mr. L.A. de Andrade Freitas
30/07/15
Romania
09/04/08
Dr. D. Cioaca
28/01/19
Russian Federation
10/11/48
Ms. I.B. Fominykh
02/11/15
San Marino
16/04/02
Mr. D. Galassi
10/10/02
Sao Tome & Principe
17/05/18
Ms. A.M. D'Almeida
25/10/19
St Kitts and Nevis
24/06/92
Mr. T.M.X. Williams
03/02/20
St Lucia
29/06/81

Mr. H. Walters

25/08/16
St Vincent & The Grenadines
22/07/81
Sen. E. Snagg
05/03/03
Senegal
15/07/82

Dr M Goudiaby

24/05/15
Slovak Republic
22/03/05
Mr. B. Hrabkovsky
22/10/15
Slovenia
20/09/06
Mr. A. Bibič
20/01/10
Solomon Islands
10/05/93
Ms R. Masu
08/06/20
South Africa
10/11/48
Mr. H. Oosthuizen
10/04/06
Spain
06/07/79
Mr M. Aymerich
11/06/20
Suriname
15/07/04
Mr R Ramkisor
11/07/16
Sweden
15/06/79
Dr J. Hagberg
01/12/15
Switzerland
29/05/80
Mr. B. Mainini
03/06/05
Tanzania
23/06/08
Mr H.G. Mbilinyi
12/01/18
Togo
15/06/05
Dr. A. Domtani
03/11/09
Tuvalu
30/06/04
Mr. P. Nelesone
13/07/04
UK
10/11/48
Dr G. Harper
08/11/16
Uruguay
27/09/07

Dr C Rodriquez Brianza

30/06/15
USA

10/11/48

Mr. R. Wulff (Acting)

09/09/14
Please use our A-Z INDEX to navigate this site