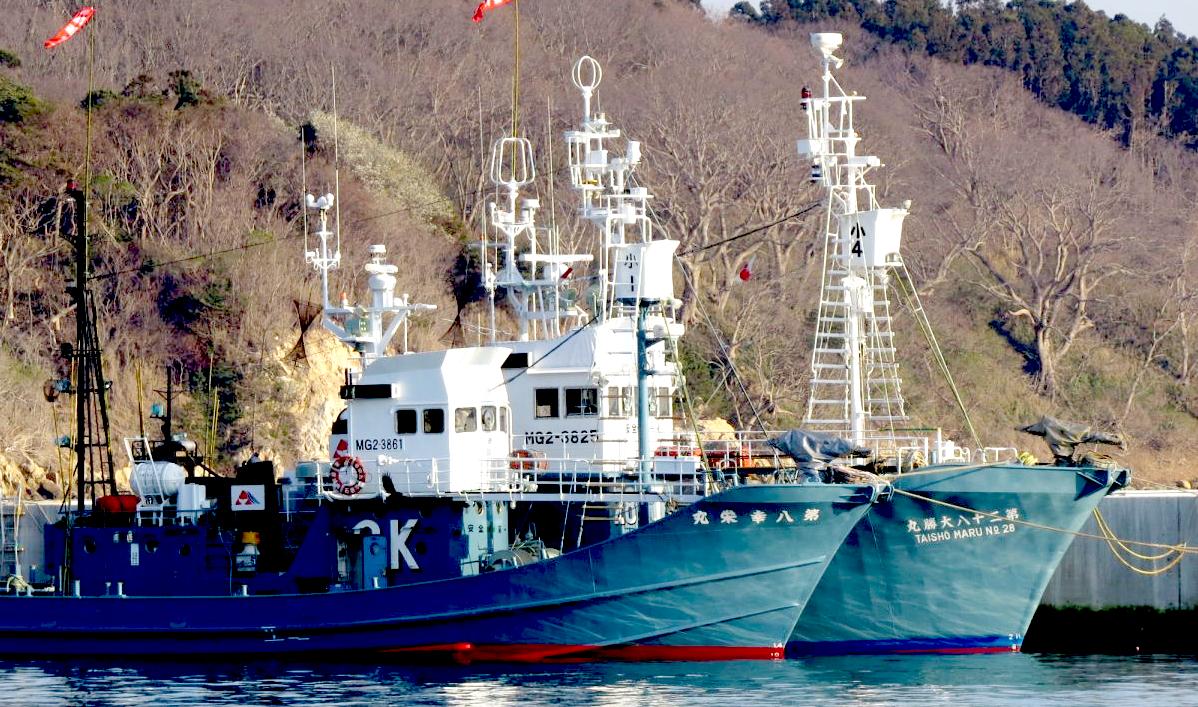 Japan has declared war on whales, not even seeking to disguise it as being for scientific research. In 2019, they resumed whaling, despite international treaties as to a ban on hunting. They argue that their harvesting of whales is sustainable. But with the pressure on the sea due to population growth, and desertification of formerly arable land, it is feared that whale meat will become an irresistible resource for some nations, that will be over exploited.
By virtue of International Agreement, all whaling at sea is deemed to be pirate fishing and illegal. (A very limited amount of traditional aboriginal whaling is legal.)
This Agreement is voluntary, not a Treaty. The strength of the agreement is due to the number of countries engaging positively, to protect species that are endangered, and those that are not yet in danger, but could become so, if there were no consensus by a majority of countries.
Whales are mammals like humans and dolphins, so that the hunting of whales is strictly speaking, not 'fishing', but taking anything from the sea, except oil and minerals, is termed fishing - as in to find and catch something hidden beneath the waves.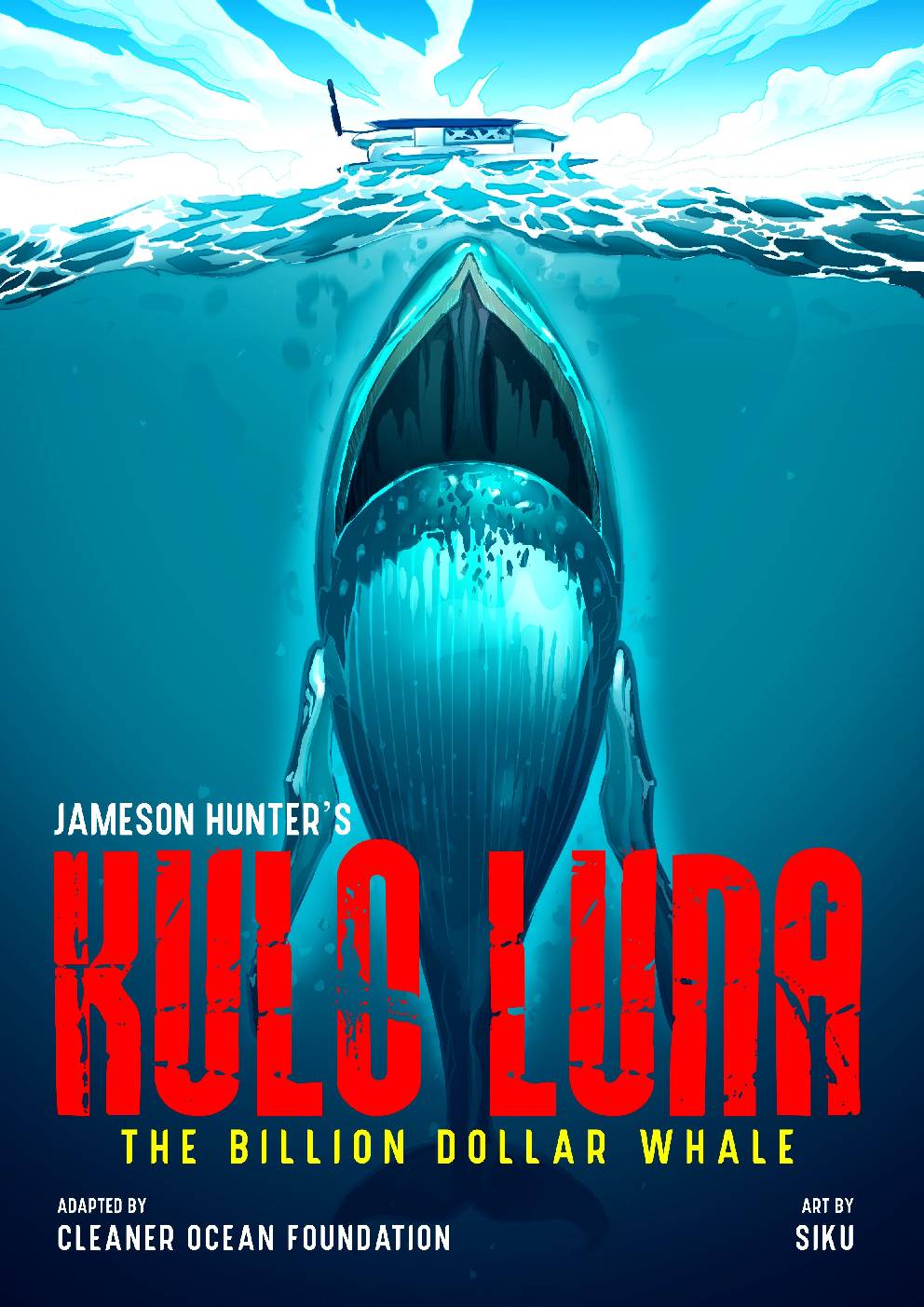 In the genre of Moby Dick, a humpback whale fights back against pirate whalers, sinking their boat. This is the cover art for a graphic novel that the Cleaner Ocean Foundation are hoping to produce as one of their ocean awareness initiatives. Unlike Jaws, baleens have no teeth, but she still manages one heck of a clash.
As an object of consumption, the whale has been hunted for centuries for its oil, bones and meat. The history of whaling appears to have begun thousands of years ago, possibly 2200 BC. It is believed that the first organised hunt was conducted by the Basques in 700 AD, followed by the Flemish and the Normans, and then the British and the Dutch, surpassing the whaling activities of the Basques. Spain, Norway and France started whale hunting in the ninth century AD.
The British, Dutch and the Germans expanded their whaling activities to the North Atlantic. Japan and Russia are considered to have started coastal whaling in the twelfth century and the United States in the sixteenth century.
The early period of whaling was characterised by whaling from land stations, as the main method, with the use of hand-thrown harpoons and nets from rowing boats. After that, the captured whales were processed in coastal waters. Subsequent to the depletion of coastal whale resources, the period of pelagic – that is to say, open ocean – whaling began. Pelagic whaling also resulted in the expansion of whaling techniques, Russia establishing stations in Korea, and land stations opening in many other littoral states, such as Australia and Canada. With the development of new technology, land stations lost their importance.
Whales were processed entirely on-board factory ships, which resulted in States expanding their operations beyond territorial waters. New technology also contributed to the increase of caught whales. These included shell harpoons with an explosive head detonating inside the whale, which shortened the time of dying for a whale, sonar devices and helicopter tracking (on modern history of whaling see: J.N. Tønnessen and A.O. Johnsen, The History of Modern Whaling (R.I. Christophersen trans., C. Hurst & Company 1982); L. Larry Leonard, 'Recent Negotiations Toward the International Regulation of Whaling,' (1941) 35 AJIL, p. 90, 92; Kurkpatrick Dorsey, Whales and Nations. Environmental Diplomacy on the High Seas, University of Washington Press, 2014; Malgosia Fitzmaurice, Whaling and International Law, Cambridge University Press, 2015).
Unlimited and unregulated whaling commenced in 1883 and lasted for 21 years, which proved more than stocks of whales could sustain. Until 1883, there is no reliable data on the number and type of species caught. Tønnessen and Johnsen are of the view that despite the lack of data, it is without doubt that all species of whales were caught.
Another invention contributing to an increase in the number of the whale species hunted occurred in 1921 when Peter Sørlle patented a 'slip-way' for factory ships. Pelagic whaling technologies allowed the mass exploitation of whales, and thousands of whales were caught every year, particularly in the Antarctic. Antarctic pelagic whaling quadrupled in the course of three successive periods between the years 1927-1931. However, over-production and over-expansion coincided with the world economic crisis and a decrease in the price of all raw materials, which resulted in the collapse of the whaling industry.
Overexploitation of whales during the period between the two World Wars led to the conclusion of two international conventions on the protection of whales: the 1931 Geneva Convention for Regulation of Whaling (155 L.N.T.S 349) and 1937 Agreement for the Regulation of Whaling (8 June 1937, 190 L.N.T.S. 79). The 1931 and the 1937 Whaling Conventions did not prove to be particularly effective, but they provided a legal framework for the future regulation of whaling, which, although not perfect, continues at present and is regulated by the 1946 International Convention for the Regulation of Whaling (ICRW) and the International Whaling Commission (IWC).
In the US they also have the Endangered Species Act 1973, under attack by the Trump administration in 2020.
Illegal whaling includes the deliberate setting of nets to snare unwary cetaceans, with claims to accidental death. Around 75% of whales have some kind of encounter with discarded fishing gear in their lives, a number of them being killed as a result with no benefit whatsoever to mankind. We are lobbying for machines that can deal with these floating death traps, or effective tagging of nets, and appropriate punishment for offenders who fail to report discards.
You can help the Cleaner Ocean Foundation draw attention to these issues with a small donation. We are entirely independent and reliant on contributions from the public. If one tenth of the people reading this page were to give just the price of a cup of coffee, we'd be in a position to push our ocean awareness initiatives that much more. Please help us if you can, help us to give whales a louder voice. They can't speak for themselves!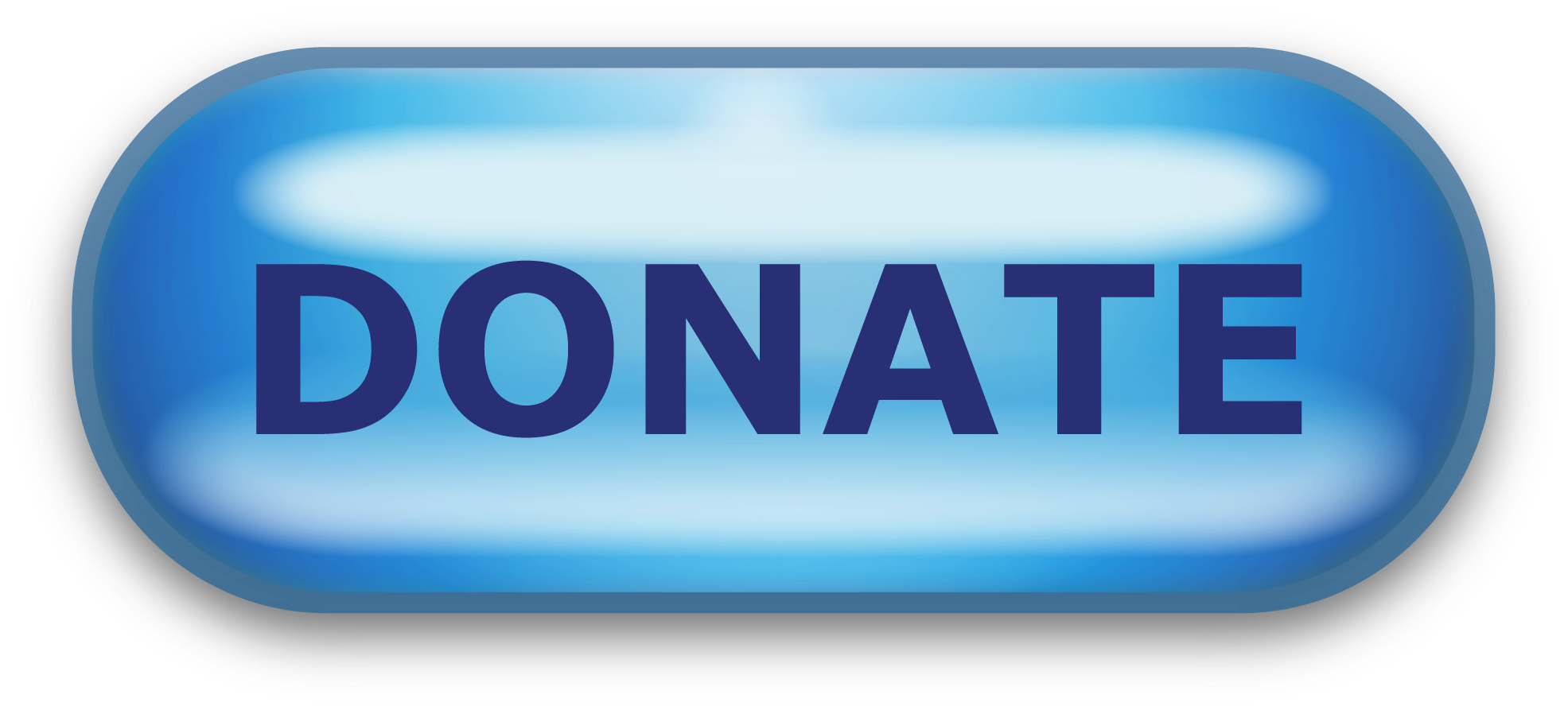 Please use our A-Z INDEX to navigate this site