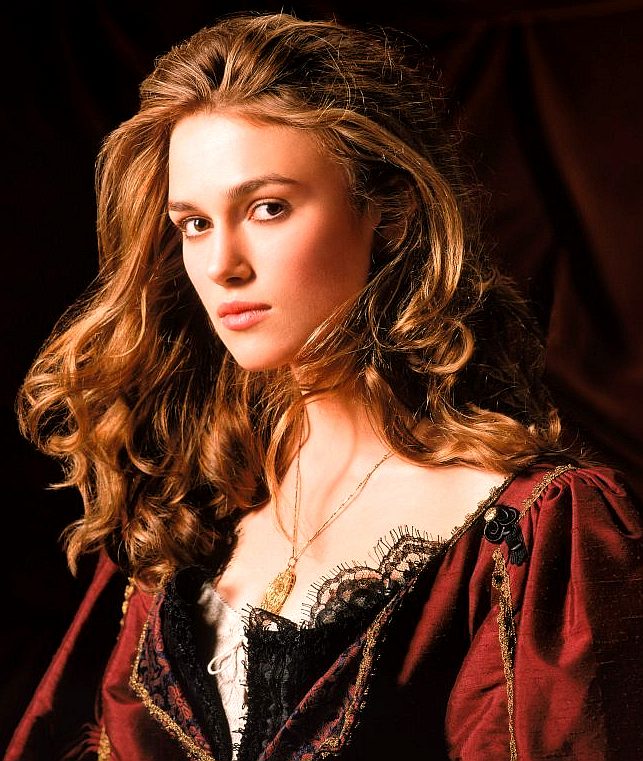 Kiera Knightly as Miss Elizabeth Swann in an absolutely stunning outfit
Elizabeth Swann (later to become Elizabeth Turner) is a fictional character in the Pirates of the Caribbean film series. She appears in The Curse of the Black Pearl (2003) and three of its sequels, Dead Man's Chest (2006), At World's End (2007) and Dead Men Tell No Tales (2017).
She has a number of fan club sites. One about her dresses. There are several about the movie series, and even a set of Lego models.
She is portrayed by Keira Knightley (and as a child by Lucinda Dryzek in the prologue of The Curse of the Black Pearl). She is known to use the alias "Elizabeth Turner", but this later becomes her married name when she weds the character Will Turner who is played by Orlando Bloom. The main antogonist in the mix is Captain Hector Barbossa, played by Geoffrey Rush.
There is no connection between the actress Kiera Knightly, or Disney and the Elizabeth Swann, other than inspiring us as to naming as a salute to the fictional character in the Pirates of the Caribbean series of films by Disney. No disrespect intended to Ms Knightly or any of the team who developed the pirate adventures, most especially Johnny Depp as Captain Jack Sparrow and Disney for creating their movie magic with such excellent casting. Indeed, the naming is intended as a tribute to the splendid entertainment value and superb production (Jerry Bruckheimer) direction (Gore Verbinski), and script writing (Ted Elliot and Terry Rossio).

ELIZABETH SWANN - This is an AutoCAD drawing of the vessel (proposed) designed to beat the Atlantic record on 5.3 knots, set by Planet Solar in November 2010.
ABOUT ELIZABETH SWANN
Throughout the first three Pirates films, Elizabeth Swann (later Turner) is portrayed as a spirited and independent-minded character who often chafes at the restrictions her gender and social rank imposed upon her. Elizabeth is a strong-willed and independent woman and is considered by many to be very beautiful. She would often speak her mind, even if it meant offending others, criticizing even dangerous enemies Sao Feng openly in front of them.

During her early reign as Pirate King of the Brethren Court, Elizabeth proved to be very charismatic and encouraged the pirates to face off against Cutler Beckett's fleet which showed that she had a talent for leadership. However, there was a darker side to Elizabeth's personality, as shown when she handcuffed Jack Sparrow to the mast of the Black Pearl in order to give her and the others time to escape from the Kraken.
She did though feel extremely guilty for leaving Jack (though she told Jack that she wasn't sorry before leaving him to his doom) and was a member of the crew that went to rescue him from Davy Jones' Locker.

Elizabeth fell in love with William Turner and they married in the middle of the battle of Calypso's maelstrom. When Will was nearly killed by Davy Jones, Elizabeth was devastated, believing him dead after she was forced to leave the Flying Dutchman with Jack Sparrow. Elizabeth's despair turned to joy when Will returned alive and well aboard the Dutchman. They even conceived a child named after Will and his father.

Elizabeth was attracted to Jack Sparrow, most notably during the search for the Dead Man's Chest, at times struggling with choosing between him and Will Turner. She told Jack that she trusted him, even though they had an interesting past together. Even though Jack Sparrow saved Elizabeth's life from drowning, he would have taken her hostage so he could escape Norrington's men, but then they'd only just met by chance.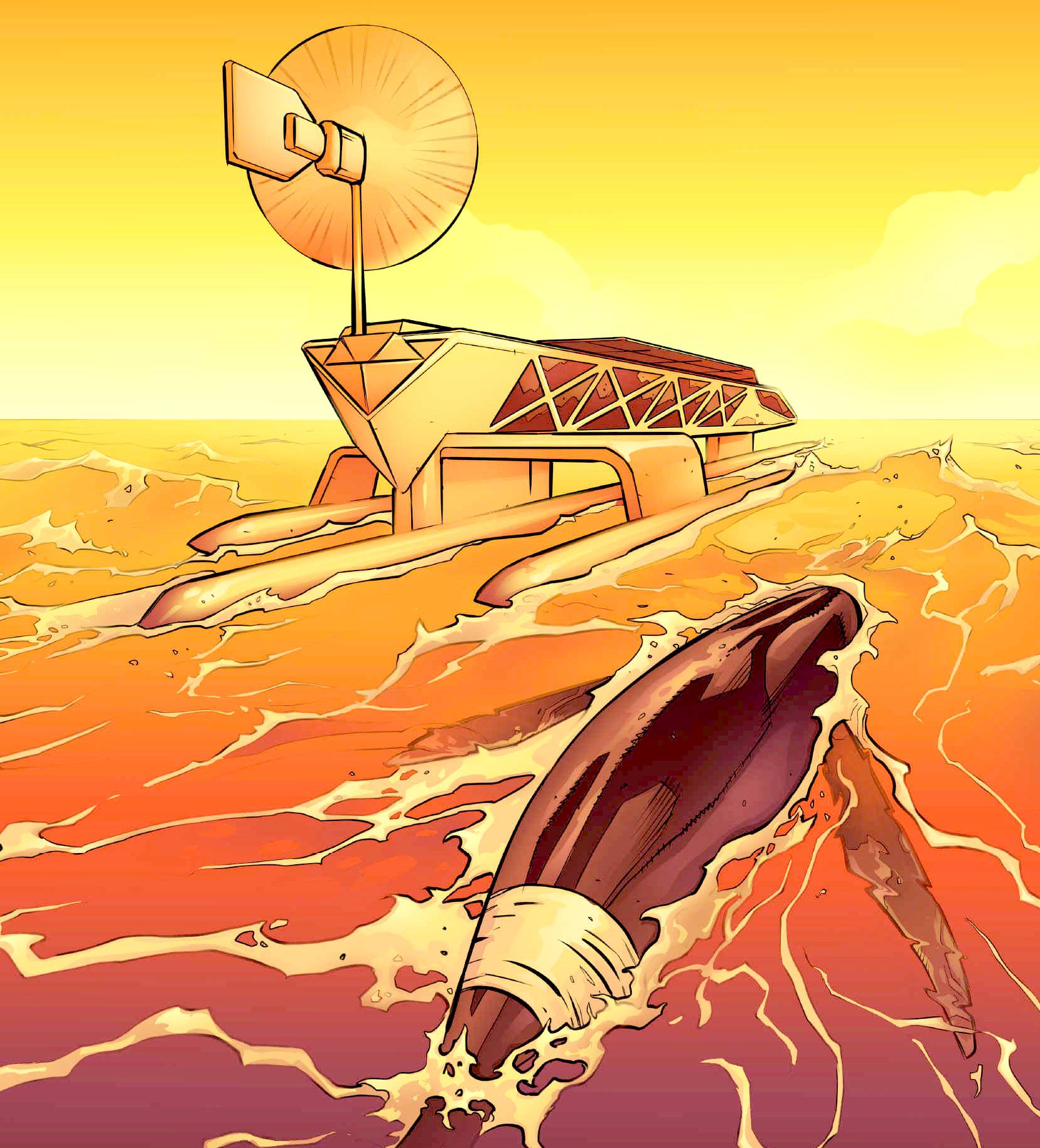 SOLAR SHIP - A vessel powered by energy from nature called Elizabeth Swann features in the Kulo Luna story, that involves pirate whalers in a future world where the International Whaling Commission (IWC) has relaxed rules on whaling because of a chronic food shortage caused by global warming and toxic plastic that is poisoning fish stocks.
Another example would be when Elizabeth hand-cuffed Jack to the Black Pearl so the Kraken could get him, even though Jack saved Pearl's crew in the Kraken's second attack. Aside from their differences, Elizabeth joined the voyage to save Jack in Davy Jones' Locker and Jack would have made the final vote that made Elizabeth the King of the Brethren Court as well as helping when he saves Will aboard the Flying Dutchman.

During her time as a pirate, Elizabeth wielded several different swords and during the Kraken's attack on the Black Pearl, she used a musket, though it was Jack who actually fired the weapon. Elizabeth also threatened Cutler Beckett with a pistol. After Sao Feng's death, he gave her his Piece of eight, making her into a Pirate Lord. Elizabeth was a skilled swords-woman, which gave her the capability of holding her own against numerous enemies. It was shown during the battles in Isla Cruces and off the coast of Shipwreck Island. Elizabeth fought in perfect unison with Will Turner, and this was first shown when she went to rescue Will from Captain Barbossa's crewmen and later during the final battle against Beckett's fleet. She also managed to temporarily fend off master swordsman Davy Jones, giving Jack enough time to take Davy Jones' heart from the Dead Man's Chest.
Will and Elizabeth's son who they name Henry Turner, who falls in love with Hector Barbossa's daughter, Carina Smyth (Carina Barbossa) in Dead Men Tell No Tales.
Elizabeth Swann is also the name of a solar and wind powered ship, inspired by the actress and her performance in the Pirates series of films.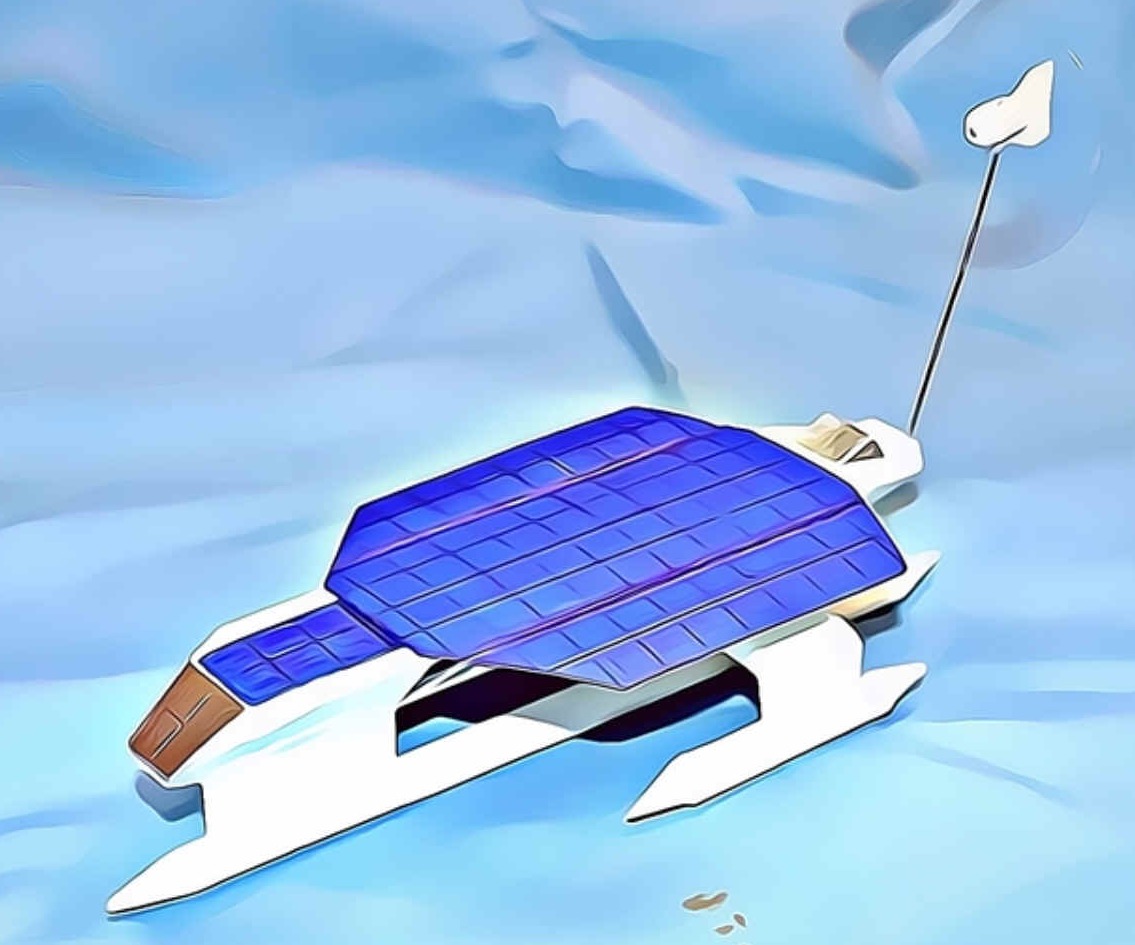 MODEL - A very small scale 1:200 model of a proposed zero emission vessel, that became the subject of a study on clean ocean transport. This model was made of paper and cardboard in a couple of hours. But it floated perfectly as predicted, leaving the technical feasibility of the craft to be verified or disproved. In the UK, the Clean Maritime Plan 2050 and Horizon Europe, are both looking for ways of making shipping meet with the International Maritime Organization's air pollution targets for 2030, 2050, and ultimately totally clean by 2100.
Please use our A-Z INDEX to navigate this site